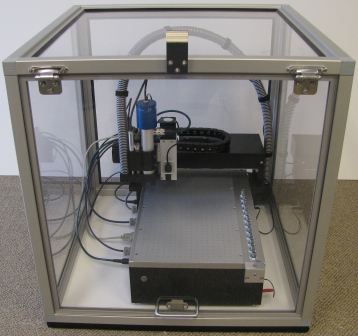 ► Price: Ask for quote
► 24x24x24 inch, 610x610x610 mm
► Convenient for Usage with Our Machines (A36x/A40x)
► Decrease the Noise

Other Recommended Links:
► System Selector
► Professional Vacuum System
► Economy Vacuum System
► Video Camera / Microscope
► Ring Setting and Removing Tool
► Silent Air Compressor

When using this acoustic cabinet, the level of noise is low enough to run the machine in an office environment. It is manufactured using aluminum profiles and polycarbonate windows. All windows have polyurethane gaskets.
Dimensions (WxDxH): 24x24x24 inch, 610x610x610 mm